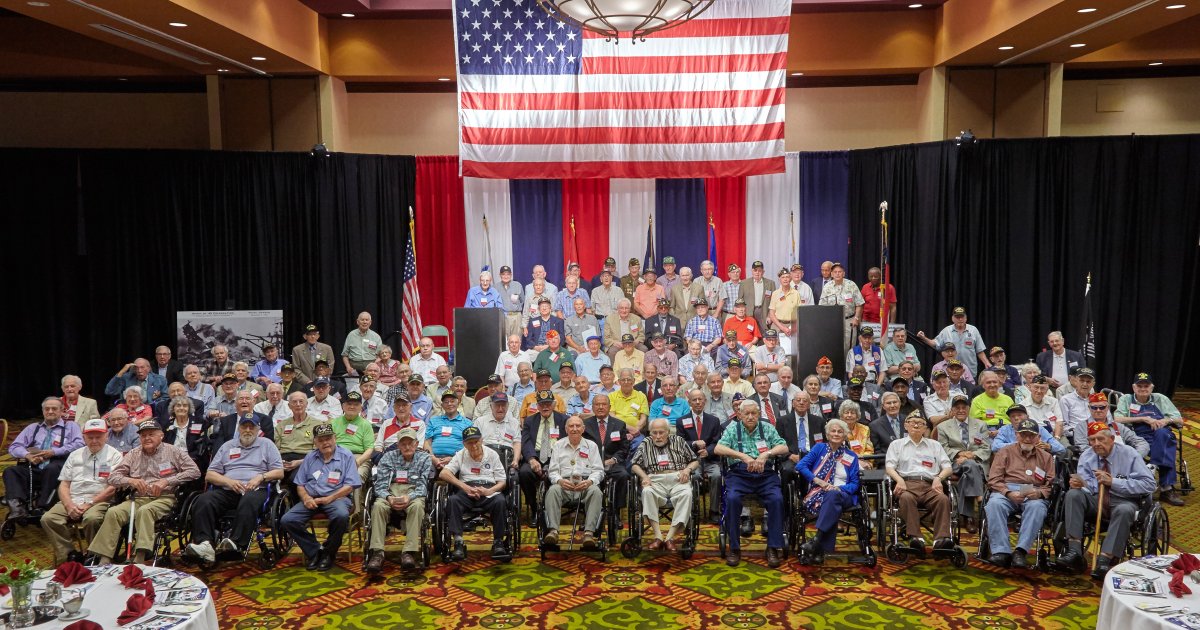 Photo from our Spirit of '45 WWII Veterans Celebration on October 28, 2016.
To purchase this photo click here.
We Honor Veterans:
Spirit of '45 Celebration
160 WWII Veterans Represented the Greatest Generation
Over 550 people attended the Spirit of '45 Celebration in Concord at the Embassy Suites on Sunday, August 28 to honor veterans and especially the 160 WWII veterans in attendance.
The event was the second of its kind in the Piedmont Triad in the last year. The event was hosted by Trellis Supportive Care. Among the impressive group of WWII veterans were many local heroes. One such hero was Dorothy Cole from Concord, a marine who will be celebrating her 103rd birthday in September. Another guest celebrated his birthday at the event, turning 102.
Among the presenters was Mr. George "Pat" Waters, the grandson of General George S. Patton (see photo of Ms. Cole and Mr. Waters – with Waters holding a pair of General Patton's boots). Mr. Waters' message echoed what all the presenters and guests had come to say to the Greatest Generation, "Thank you for your service and welcome home."
This very special gathering of veterans all started with Trellis Supportive Care making a commitment, years ago, to a national program of Hospice called We Honor Veterans. "We began hosting Veteran Coffees throughout the region as a way to foster fellowship among veterans and as a way to educated them about resources available to veterans," shared Don Timmons with Trellis Supportive Care. "It is heartwarming to see the men and women at our coffees visiting and sharing stories with other veterans. It's a comfortable way to enjoy some much needed comradery and, at the same time, learn about valuable resources," added Timmons.
Timmons said, "I was really surprised at the number of WWII veterans who were coming to the coffees, so we decided it was important and timely to have an official celebration in their honor." 
Sponsors were quick to say yes when it came to supporting the Spirit of 45 Celebration. It is an honor to bring World War II veterans together for a tribute and a pleasure to support the efforts of an organization like Trellis Supportive Care that touches so many people in our community in such a personal and compassionate way.
The event included fantastic entertainment by well-known singing and dancing duo, Letters From Home. They brought spirited energy to the celebration, preforming patriotic songs that were popular during the war. They even brought a few World War II veterans onto the stage to be a part of the show.
The evening closed with a heartfelt and moving rendition of Taps by Mike Benfield. It was a beautiful tribute to all those who have made sacrifices and especially for those who have made the ultimate sacrifice. 
The staff at the Embassy Suites, Concorde-Charlotte, was exceedingly supportive and enthusiastic. They went above and beyond to ensure that each of the 160 World War II veterans and their guests had a superb time at they're lovely hotel. 
Trellis Supportive Care is a part of a national program called We Honor Veterans. In addition to providing specialized compassionate care at end of life, our mission is to help patients and families live fully, making the most of every day. The Spirit of '45 Celebration was a perfect complement to our mission.