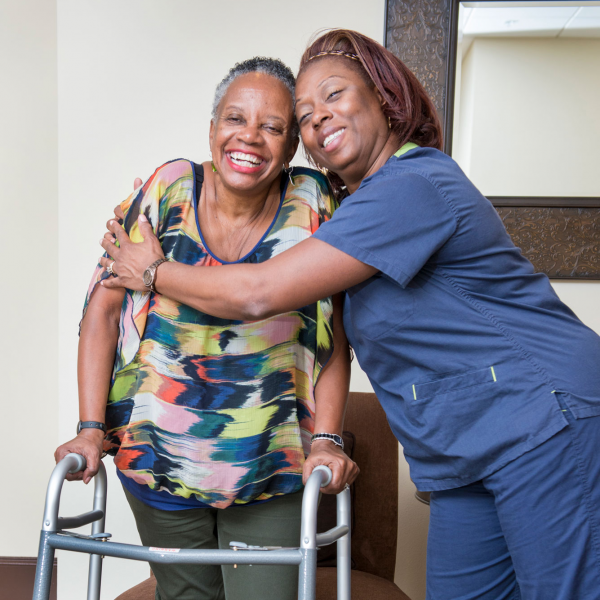 For patients needing more intensive care than can be provided at home, the Kate B. Reynolds Hospice Home promises compassionate care in a comforting, family-like environment. We understand there are times when the challenges of an illness are too great to be managed without skilled assistance. And we understand that caring for a loved one can be overwhelming. Our Hospice Home has 40 private patient rooms offering Hospice patients state-of-the-art care in a beautiful home-like setting. Hospice patients receiving care at home may be admitted to our Hospice Home when the necessary medical care is not easily managed at home, or when a caregiver is in need of respite.
Keeping our patients, visitors, and employees safe from COVID remains a priority, therefore we continue to require masks in clinical and communal areas for the well-being of all. With around-the-clock nursing and specialized palliative care, the Hospice Home promises a much-needed reprieve.
Always open to a patient's friends and family, including children, the Hospice Home offers convenience and comfort to assure peace of mind during a difficult time. Each patient has a private room with comfortable furnishings and a private bath. Shared amenities include lovely sun porches, family rooms, a meditation room, and tranquil outdoor patios and gardens. While regular meals and snacks are available to patients at any time, fully equipped kitchens are also ready for families wishing to bring food from home.
For patients needing intensive nursing skills or urgent alleviation of pain, our Hospice Home is a pleasant, comfortable and helpful place to cope with the challenges of a life-limiting illness.