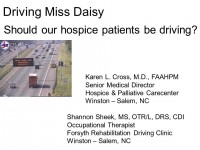 Friday, February 24, 2012 - 8:30am
Objectives:
Learn how to screen patients for impaired driving abilities and what resources are available for both healthcare providers and their patients who are not able to drive.
Be more knowledgeable about curent literature regarding the effect of
medications and diseases on patients' driing ability.
Know what a healthcare professional's legal and ethical responsibilities to assess their patients for physical or mental impairments that might adversely affect driving abilities.