Submitted on Wednesday August 7th, 2013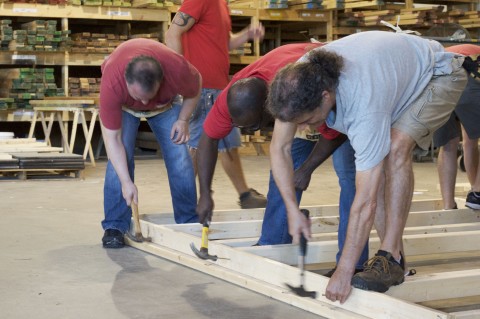 The death of a loved one and the grief that comes with it often destroys dreams—dreams of what could have been, dreams of what should have been.  Grief often destroys hope, as well.  The Hospice Healing Build, a new and meaningful partnership between two local non-profit organizations, Habitat for Humanity and Hospice & Palliative CareCenter, seeks to help bereaved members of our community rebuild hope by providing active and meaningful ways to process grief.  "We tend to think of grief as only an emotional experience—but grief also affects us physically, intellectually, socially, and spiritually.  We believe that the Hospice Healing Build provides so many rich opportunities to engage with these aspects of grief—and to move closer to healing," shared Donna Hampton, HPCC's Director, Grief & Bereavement Services.
The Hospice Healing Build is also about building new dreams—the dream of home ownership for the family who will receive this home.  Home ownership improves a family's quality of life by reducing their housing and utility costs and by contributing to long-term financial stability.  The new homeowners contribute to the property tax base and add to the stability and family-oriented character of a neighborhood. Owning a home also has positive, far-reaching effects on a family's children.
"This really is the perfect joining of two groups," comments Sylvia Oberle, Habitat's Executive Director.  "Habitat has seen that when houses are built by family and friends in memory of individuals, this becomes a special time of healing. As a result of this partnership, we will build a safe, affordable home for a Habitat family in our community—a demonstration of 'hope for the future' for all involved."
Oberle—herself a bereaved parent—has experienced first-hand the power of Habitat as a healing agent.  Just months before she started at Habitat, Oberle's 21-year-old son, Andrew, was killed in a car accident while away at college.  "Habitat was a gift of grace for me.  In its uplifting moments and the very tangible acts of building houses and working with families, I have discovered a renewed sense of purpose in life, something of meaning beyond just my sorrow and grief.  This is what I hope other bereaved parents and family members can discover."
"Grief forces us out of our comfort zones—and the thoughts of building a house is certainly outside of many of our comfort zones," shared Donna.  "However, the 25 people present at the Wall Build—many of us first-time volunteers who may have never hammered a nail—are proof that, together, we CAN do this.  We can confront our pain, sorrow, and fears—and in the process, we can make a dream come true for the family who will receive this Habitat House."
The project began with a 'Wall Build' in June at the Habitat Warehouse.  Staff and volunteers from both organizations, as well as bereaved community members, worked together to construct all interior and exterior walls.  These were then loaded onto a tractor trailer, where they'll be stored and then transported to the build site for the Jimmy Johnson Memorial Labor of Love Blitz, which takes place August 28-31, 2013.  "The Wall Build was memorable and meaningful and is just the beginning of an amazing collaboration between Hospice and Habitat.  It was so humbling to hear the sounds of so many diverse individuals all hammering toward a common goal while sharing their grief," commented Brian Payne, HPCC CEO.
 "When I showed up at the Wall Build, the Habitat folks welcomed me immediately.  They could easily see the outside—but not the inside," shared a bereaved father who volunteered at the Build.  "There was initially a feeling of discomfort.  It was easy to navigate toward the few I knew, but I found myself on my own island and feeling uncertain as to how this day would play out…like many of my days dealing with grief.  I met other dads who had also lost their sons.  Throughout the day there was an unspoken bond because we were in the same place. 
I had done Habitat builds before, but this one was different.  As we assembled and constructed the walls, my purpose grew.  As an architect and contractor, this was a part of what I deal with most days.  I quickly realized, though, that it wasn't only about building the walls for this family; it was also about rebuilding my own life.  I found myself moving from 'how fast can we build them' to 'how can I help others in completing the walls.'  Grief changes how you look at life—a new way of seeing what has always been in front of you."
Construction on the Hospice Healing Build will extend 10-12 weeks after the Blitz, with building scheduled Tuesday through Thursday and Saturday, with the dedication of the home planned before the end of the year.
Those interested in volunteering may visit www.habitatforsyth.volunteerhub.com to sign up to volunteer.  For volunteer questions, contact Debbie Cesta at (336) 765-8854 ext. 105 or email her at Debbie.cesta@habitatforsyth.org.  
Click this link to read our article in Forsyth Family Magazine: http://ow.ly/d/1rNn
To make a gift in support of this unique and meaningful collaboration, make checks payable to The Winston-Salem Foundation, indicate gifts are for the Hospice Healing Build Fund, and mail to The Winston-Salem Foundation, 860 W 5th St. Winston-Salem, NC 27101. Or go to www.wsfoundation.org, click on Make a Gift, go to Named Funds and type "Hospice Healing Build Fund" under Fund Search.