Submitted on Tuesday December 10th, 2019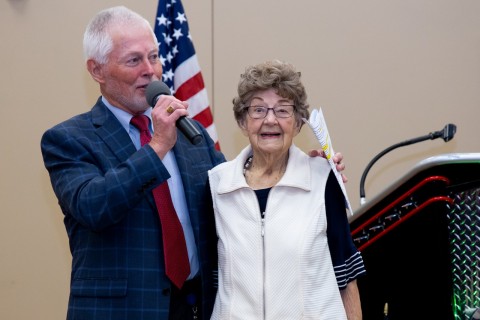 Susan Rudd, a 101-year-old Army WWII Veteran is no stranger to the many veteran events hosted by Trellis Supportive Care; however, being the guest of honor at today's Pearl Harbor Remembrance Breakfast among 600 fellow veterans was a welcome surprise. Trellis Supportive Care's veteran outreach coordinator, Don Timmons, gave a special salute to Rudd as part of the program, which took place at the Richard Childress Racing event room. "I had breakfast with my favorite 101 year old veteran," shared Timmons. "A great way to top off our 5th year of Veterans Coffee events," he added.
Rudd's daughter, Linda Reddick, who happens to be a long-time volunteer for Trellis Supportive Care, escorted her mother to the breakfast. The breakfast is an annual tradition and one of many veteran events Trellis hosts throughout the year to recognize all veterans for their service to our country. Part of the event included a Moment of Silence in remembrance of all WWII Veterans.
Erinn Dearth, beloved by many veterans and known for her performances for "Letters from Home," provided lively entertainment for the crowd. In the spirit of giving, many guests brought new toys and children's clothing for the local Marine Corps League "Toys for Tots" programs. Any veterans in the region who would like to connect with fellow veterans, or who are looking for information about benefits and programs for veterans are encouraged to attend any of the eight monthly coffees hosted by Trellis Supportive Care. Contact Trellis and ask for Timmons, a Vietnam Veteran, directly to learn more.