Submitted on Thursday October 29th, 2015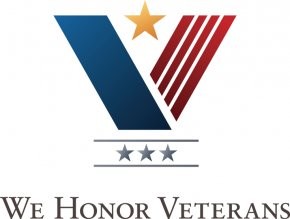 Did you know that here in the Piedmont and Foothills of North Carolina, one in five of the people under our care through the Hospice and Palliative CareCenter are veterans? So many of the men and women who served our country proudly, sacrificing time away from their homes and families to go overseas to Europe, Japan, Korea or Vietnam, are aging. Now, instead of fighting Hitler or communism, they are fighting the diseases of old age: cancer, heart disease and COPD, to name a few.
Because veterans are such a large part of our population, we are proud to be part of the We Honor Veterans movement, which has helped us better serve veterans in our area. When the National Hospice and Palliative Care Organization teamed up with the Veterans Administration to offer this partnership, it opened up a lot of new opportunities for training and service for all of the hospice centers that joined in the effort. Education is a big part of this initiative, and through it we have had the opportunity for our staff to be trained in how to specifically serve our veteran population.
Patients who are veterans sometimes have unique needs as they face death. Even though it has been many years since they served in combat duty, the stress of being sick and facing their own mortality again can bring back memories, feelings of guilt or flashbacks to traumatic situations. Our staff is trained in techniques on how to approach veterans and talk to them, and encourage them to express their emotions.
As with every patient, a team of caregivers is available to ease a person's pain and help them be calm and comfortable. Our chaplains, social workers, nurses, nurses aids and volunteers are all taught to be aware of fragile situations some veterans might encounter. We also have a great program through our volunteer service where we recruit veterans to be companions to the veteran patients who are enrolled with the Hospice and Palliative CareCenter.
If you are looking for help with your loved one who is a veteran, you can be sure that putting them in the care of our team at Hospice and Palliative CareCenter will give them the security and reassurance they need to face death with dignity, something we all hope to do.
Please contact us with any questions.