Submitted on Monday September 10th, 2018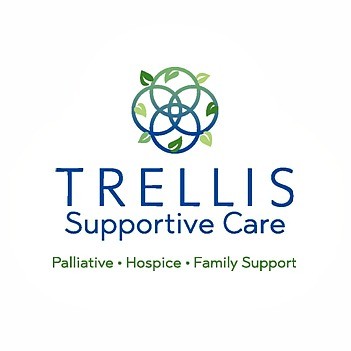 Piedmont/Triad NC - On September 1, North Carolina's first nonprofit hospice organization founded in 1979,  Hospice & Palliative CareCenter, will change its name to Trellis Supportive Care. Staff and stakeholders  wanted a name that stands apart from other hospice providers and that reflects its mission of providing supportive care to patients and families.
President and CEO, Linda Darden, said, "Our care has always set us apart, and now our name does too. The image of a trellis beautifully illustrates the framework of support we provide our patients and families. We also like the sense of guidance and support the name evokes."
The organization recognized confusion among the public, including the belief that all hospices were the same  A growing number of families were calling to express frustration that they had enrolled, unknowingly, with a  different hospice provider, assuming that they were with Hospice & Palliative CareCenter. "Many families simply couldn't ask for us by name. Some believed our name was Kate B. Reynolds Hospice, and that is okay  because our Kate B. Reynolds Hospice Home is a wonderful part of our organization. Yet our generic name led  to some of the confusion," shared Darden.
"We believe this name provides a unique and memorable name that accurately reflects the mission of our organization," shared Aaron Singleton, Chair of the Board of Directors. "This is a deliberate step towards  embracing a new identity that reflects the organization's distinctive characteristics and establishes a brand that patients and families can ask for by name," added Singleton.
Hospice care remains the cornerstone of the organization; however, the name Trellis Supportive Care represents more than simply hospice and palliative care. "We provide advance care planning consultations,  grief counseling, complementary therapies, a team of physicians and nurse practitioners that make home visits, and so much more that truly sets us apart," said Darden.
"We understand that a great deal of education will be necessary to share our new name," shared Ann  Gauthreaux, Director Public Relations. "Many local media sources have graciously committed to help us  spread the word. At the end of day, we trust people will recognize us as the same nonprofit, mission-driven organization that has served the community for decades. When they ask for Trellis Supportive Care, they will have peace of mind they have made the right choice."
###
Trellis Supportive Care (formerly Hospice & Palliative CareCenter) was the first hospice in the state of  North Carolina. Since 1979, hospice care has been the cornerstone of the organization's care; however, over the  years, new and expanded programs have been introduced. These programs include grief counseling and  advance care planning — both free of charge — for anyone in the community, as well as expanded palliative  care services designed to meet the needs of patients earlier in the disease process. In 1998 the Kate B. Reynolds Hospice Home was opened, providing around-the-clock care to patients and families needing short- term inpatient care or respite care.
The Trellis Supportive Care staff is comprised of specially trained professionals who work as a team to help  patients and their families live fully and comfortably, with hope — even during life's most challenging time.