Submitted on Wednesday December 16th, 2015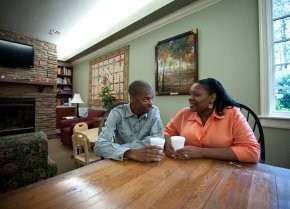 If you have a loved one in hospice care, whether they are in our Kate B. Reynolds Hospice Home or in their own home, the holidays can be a challenging time. Caring for a loved one can be stressful, leaving you feeling exhausted and worried, quite the opposite of the joy and happiness we expect during the holiday season. The traditions your family has might naturally be disrupted due to the needs of caring for a seriously ill person. But that doesn't mean that you can't still have a meaningful holiday season. Here are a few things you can do to help get you through the holiday season.
Minimize the traditions. Most families have holiday traditions that include things like decorating the tree and the house baking cookies, making candy and hosting parties. With the precious time you have with your loved one, you may choose to skip some of those traditions, instead, try focusing on one or two that are important for your family and give yourself permission to focus on what's most important.
Manage Expectations. Whether your loved one is receiving care in their own home or in our Hospice Home, they will love seeing family, but may not have the strength for long visits. Many of our patients are comfortable and alert, still able to cherish time with loved ones, yet thier appetite and energy level may not be what it used to. Keep that in mind as you make plans to gather. It may be best to shift your focus on enjoying each other's company.
Share special moments with your loved one. Our purpose through hospice is to improve the quality of life of patients within our care. Creating life moments is our goal, and something you can do too. Bringing a special gift, watching a favorite holiday movie during your visit, listening to carols together or just taking time to share stories from years past are all ways to make the most of the time you have together with your loved one this holiday season.
The most important thing is to remember that spending time together is the most precious gift of all. Rather than dwelling on the fact that this might be your last holiday together, make the most of the time you have. Create new memories that will last a lifetime. And don't be afraid to lean on the staff here at Hospice & Palliative CareCenter. We are specially trained to help families through what can be a challenging time, especially during the holidays, and are always here for support and comfort when you need us.
Questions? Contact us, or call (336) 768-3972. We're here for you 24 hours a day.