Submitted on Wednesday December 23rd, 2015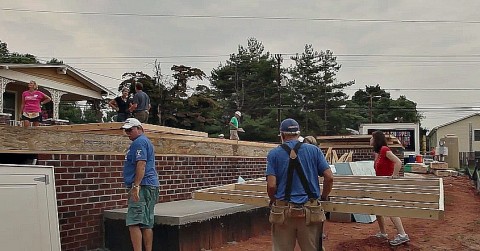 Please tune in – WUNC TV – January 3, 2015 at 5:00pm
Labor of Love: The Healing Build, a short documentary about grieving individuals coming together to build a Habitat house for a family in Winston-Salem, will air on WUNC-TV at 5 p.m. on January 3.
Labor of Love, written and produced by Stone's Throw Films, chronicles the experience of a group of volunteers who built the first Healing Build House in 2013. Laura Hart McKinny, vice president of Stone's Throw and member of the screenwriting faculty at UNC School of the Arts, said she and her family had been helped by Hospice & Palliative CareCenter and wanted to give back by making the film.
A collaboration between Hospice & Palliative CareCenter and Habitat for Humanity of Forsyth County, the initial Healing Build offered 170 volunteers who had lost loved ones an opportunity to experience a tangible, uplifting and hopeful way to process their grief alongside others with similar experiences. Among those interviewed in the documentary are Donna Hampton, director of grief and bereavement services for Hospice, and Sylvia Oberle, executive director of Habitat Forsyth. Both share openly about their own personal experiences losing a stepson and son, respectively.
The documentary is a moving portrayal of how people deal with the loss of a loved one, how a shared experience can be healing and a shining example of how one family came to have a new home. This collaboration was the first of its kind.
Watch the trailer: https://vimeo.com/95917227
Learn more about Hospice & Palliative CareCenter's grief counseling services, or call 336-768-3972.