Submitted on Thursday December 3rd, 2015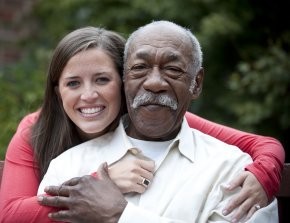 Many people are under the impression that the services found through Hospice & Palliative CareCenter are limited to those who are seriously ill or facing the end of their lives. While that is the majority of what we do, there is so much more to our mission. Our grief counseling services support and services extend to the families of our patients as well as the entire community – regardless of their hospice connection and are available even after the patient has passed away. Helping people cope with grief is the goal, and thanks to the generosity of our donors and the community, we can provide that support to anyone.
We know that suffering the loss of a loved one can be a tragic event is painful. Whether it's a young mother in her 30s dying of breast cancer or an elderly grandparent in his 90s succumbing to Alzheimer's, death is never easy for the ones left behind. If you're a spouse, parent or child, or even just a close friend of someone who has been through hospice care and passed died away, please let us helpwe offer grief counseling services to help you through these tough times. While everyone experiences grief in their own way, mourning is an essential step in the healing process, and our counselors are available to work with clients to validate the experience of grief and find strength and coping skills.
Hospice & Palliative CareCenter offers private sessions and group sessions with licensed counselors, as well as group sessions led by our licensed counselors. Here you'll find an understanding and compassionate person to talk with, as well as support from other who are groups of others goinggoing through similar experiences.
We also have services tailored to children, including Camp Carousel, a weeklong therapeutic retreat for children and teens, and a grief education program that can come into a school after the death of a student or talk with community groups about grief.
It's never too late to talk to someone if you're dealing with the loss of a loved one. To learn more about our counseling services, call Hospice & Palliative CareCenter today at 888-876-3663.
2016 Group Counseling Services Schedules, Hospice & Palliative CareCenter , Winston-Salem Winston-Salem, Mocksville and Walnut Cove
Rowan Hospice & Palliative Care, Salisbury