Submitted on Tuesday November 10th, 2015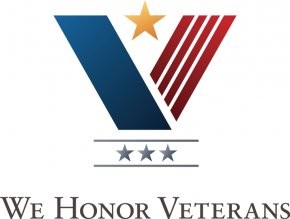 Hospice & Palliative CareCenter is leading the way in Veterans Outreach
November 11 is Veteran's Day, a very important holiday for our country, and one that we hold dear at Hospice & Palliative CareCenter. Veteran's Day is an opportunity for us to honor all of the men and women who have served in our nation's armed forces. Every person who has served in the military has made sacrifices to serve our country. Veteran's Day gives us a chance to thank them for their service and show our pride in the people who help keep our country safe.
For us, Veteran's Day isn't just a one-time event. Hospice & Palliative CareCenter is proud to be a partner in the We Honor Veterans program, a partnership between the National Hospice and Palliative Care Organization and the Veterans Administration to help serve our nation's veterans. Through this we are able to provide our staff special training to care for patients who are veterans, who represent 23 % of our patients here in the 13-county area of North Carolina that we serve.
We also take that commitment to Veterans a step further by providing opportunities for fellowship and comradery for veterans throughout our region. Throughout the year, we hold monthly Veterans Coffees at various locations, including Statesville, Mocksville, Greensboro, Winston-Salem, King and Welcome. At these coffees where free coffee and doughnuts are enjoyed, we invite local organizations that serve veterans to come share their information, but most importantly, they provide a chance for these men and women to get together with others who have shared experiences.
We also hold various other special events throughout the year to honor our veterans. Please visit http://smu.gs/1RM8eF6 to see priceless photos of our most recent event; the Spirit of '45 Celebration. Of the 500 guests, 112 WWII veterans – the Greatest Generation - were celebrated. This year, take time on Veterans Day to remember what an important role our service men and women play in keeping our country safe and protecting our freedom. By attending a Veterans Day event in your area, or simply thanking a veteran -for their service, your show of  appreciation goes a long way.
Please contact us with any questions.