Submitted on Wednesday December 30th, 2015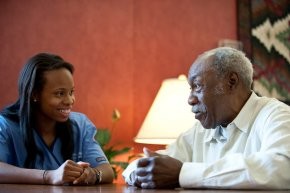 Music is a magical thing. Hearing a song that you love can immediately put you in a good mood, and even bring back memories. If you're lucky enough to be able to play an instrument, it can be a big stress relief to sit and play, sometimes for hours on end. And while we're not all Frank Sinatra or Doris Day, belting out your favorite songs really can help lift your mood.
It's no wonder then that music therapy has benefits for patients of all types, from children with autism to the elderly who might be suffering from symptoms of a Parkinson's or dementia.
According to the American Music Therapy Association [http://www.musictherapy.org/], music therapy is the clinical and evidence-based use of music interventions to accomplish individualized goals within a therapeutic relationship by a credentialed professional who has completed an approved music therapy program. Music therapy interventions can be designed to:
Promote Wellness
Manage Stress
Alleviate Pain
Express Feelings
Enhance Memory
Improve Communication
Promote Physical Rehabilitation
We are lucky to have a music therapy program at Hospice & Palliative CareCenter. It is a program that enriches the lives of our patients. But the benefits of music don't have to be limited to trained therapists. You and your loved one can enjoy the therapeutic benefits of music at any time. Now, during the holiday season, music is so much a part of our lives and our memories that it's easy to integrate music into your visits with your loved ones.
Host a sing-a-long. It might have been years since your family gathered around the piano singing, if they ever did, but singing with others is always fun. If someone in your family plays the guitar, bring it on your visit with your loved one and try out a few of your favorite holiday songs.
Share old music. If you have access to records and a record player that's great, but an iPod will do. Download some of those Bing Crosby holiday classics, and watch the sparkle come to everyone's eyes.
Invite carolers. Many churches are glad to come sing through the halls of hospice homes. If you have a loved one in the Kate B. Reynolds Hospice Home in Winston-Salem or the Glen A. Kiser Hospice House inSalisbury, invite your church to come sing one day during this season. The residents will be sure to have their spirits lifted hearing their favorite hymns.
Music is a big part of our lives during the holiday season, with songs both old and new being played non-stop on radio stations and in shopping malls. Help bring that spirit into the lives of your loved ones in hospice care this season, and remember, music is therapeutic all year round, not just during the holidays.
Questions? Contact us, or call (336) 768-3972. We're here for you 24 hours a day.