Submitted on Monday October 12th, 2015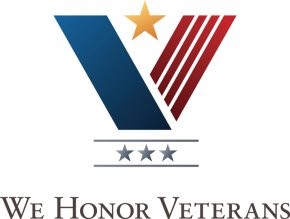 Here at Hospice & Palliative CareCenter, we are proud to honor our veterans and all they have done for our country. As participants in the We Honor Veterans program, a program of the National Hospice and Palliative Care Organization and the Veterans Administration, we make sure our team is well-versed in the specialized care that is sometimes needed in caring for veterans during terminal illness, as well as hosting social activities for veterans to meet, share stores and learn about resources available locally.
It was during our work with veterans throughout our 13-county region that we became aware of the number of World War II veterans who were still able and eager to attend these events. Many of them are in their late 80s or 90s, and won't be around for many more years. We decided it was time to create a special event honoring WWII veterans, to pay our respects for the sacrifices they made so many years ago, both on the battlefield and back here at home as they came back to the United States to raise families and build careers. Using the term Tom Brokaw coined, this "greatest generation" deserves our respect, and we want to make sure they know how much we love and respect them.
We are hosting the "Spirit of '45 Celebration" as a way to honor these WWII veterans. Everyone is invited to attend this exciting and heartwarming event. In addition to dinner, there will be entertainment from the lovely singers, Letters from Home, and a special recognition ceremony.
The event will be held on October 25 from 4-6:30 p.m. at the Embassy Suites Hotels Airport location in Greensboro. All World War II veterans are invited to attend as our guests, free of charge, and they can also bring one guest with them for free. Tickets are available for $45 for all others. Click here for more information.
                We hope that you will consider attending this wonderful event and helping us pay tribute to our area's World War II veterans.
Please contact us with any questions.