Submitted on Monday January 11th, 2016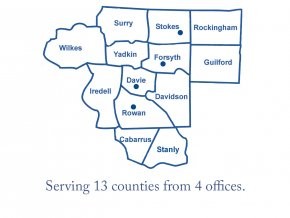 Hospice & Palliative CareCenter has been providing quality, compassionate care to people with life-limiting illnesses  since its inception in 1979. As the first hospice organization in North Carolina, we have garnered a reputation over the years of being at the forefront of hospice care. And over the years our organization has grown. We now provide services in 13 counties, including two hospice homes, the Kate B. Reynolds Hospice Home in Forsyth County and the Glenn A. Kiser Hospice House in Rowan County.
While we might have been the first hospice care provider in the state, we are by no means the only one. As the population ages, the need for end-of-life care is growing,  more  hospice care providers are available to provide care.  You will find all types of hospice organizations,  both for-profit and non-profit, privately owned or run by a partnering medical facility.
Because Hospice & Palliative CareCenter has been a part of the community here in the Triad and foothills for so long, many people assume that when they ask for hospice care, they will be receiving care from our team. Unfortunately, this is not always the case. When you're faced with a life-limiting diagnosis making decisions for yourself or a loved-one can be overwhelming. You may be presented with a few options, and you may not even realize what to factor into such a decision. Too often we have had people come to us saying that they asked for their loved one to be put in hospice, thinking it was Hospice & Palliative CareCenter, only to find they are with a hospice service they are unfamiliar with.
"As the first hospice in North Carolina and with our deep roots in the community, many people have come to know and trust us. However, in the actual moment of making a decision to utilize our hospice care, few people are able to ask for us by name," said Ann Gauthreaux, Hospice & Palliative CareCenter Regional Director of Public Relations. "Many people assume they are getting us, when in reality they find themselves with a hospice provider they know nothing about."
It can be a stressful time watching a loved face the challenges of a terminal illness and face the end of life. We're here to ease the fears and challenges, for you and your loved one. We want to help our patients and families live each day as fully and comfortably as possible – cherishing every moment. Make sure that when the time comes, you ask for us by name -- Hospice & Palliative CareCenter.