Submitted on Tuesday April 24th, 2012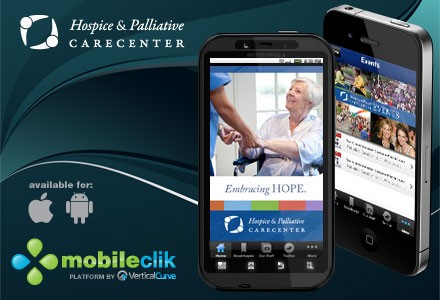 Hospice & Palliative CareCenter's popular mobile app, Hospice Connect is now available for Android devices.
Hospice & Palliative CareCenter is proud to be one of the first 3 Hospice organizations in the world to launch a mobile application! Hospice Connect is your always-available, on-the-go resource to what's happening at Hospice & Palliative CareCenter.
The first hospice in the state of North Carolina, Hospice & Palliative CareCenter has provided compassionate care for individuals living with chronic and serious illness through quality medical, emotional, spiritual, and social support. Care supports both the patient and the family.
Hospice partnered with locally-based VerticalCurve, LLC to launch Hospice Connect on the app creation platform, MobileClik. Mike Buckovich, founder and President of VerticalCurve said of the partnership, "VerticalCurve is excited to welcome Hospice & Palliative CareCenter to our MobileClik app platform and play a role in bringing social media and cutting-edge mobile technology to Hospice staff, physicians, and supporters."
Contact us for more information.