Submitted on Friday October 14th, 2011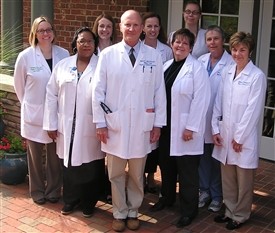 Imagine what it would be like having to face a life-limiting illness feeling alone, in unmanaged physical and emotional pain. You may not be ready for hospice yet, but you still need support, you need pain management and have questions but don't know where to turn. Hospice & Palliative CareCenter Can Help. We are the first hospice in North Carolina to offer new and exceptional services wherever you call home or at our new on-site office of our Supportive Care Partners Program. If you or someone you love receives a diagnosis of a serious, chronic illness, you can now ask for a Supportive Care Partner and benefit immediately from the highest level of guidance, medical assistance, and emotional support. We understand the challenges and anxieties of a difficult medical journey, and we are here to help ease the way.
Our Supportive Care Partners are a team of seven doctors and four nurse practitioners, specializing in hospice and palliative medicine. Working in partnership with both the patient and their regular physician, we focus on giving patients the comprehensive support they need as they move through their treatment. Think of a Supportive Care Partner as a knowledgeable and friendly guide through the maze of serious illness. Everyone deserves the peace of mind that comes with having a dedicated partner throughout their healthcare experience. The guidance and support offered goes far beyond what is normally offered in traditional care. With a Supportive Care Partner, patients have personal, compassionate and expert support every step of the way. In fact, studies have proven that having a Supportive Care Partner not only improves the quality of life, it extends it.
At its heart, Hospice & Palliative CareCenter is about helping people during the most difficult and vulnerable time of their lives. Our mission consists of the simple and essential purpose of assuring that a patient experiencing the end stages of a serious illness has skilled medical care, lovingly provided personal care, emotional and spiritual support, and the companionship of our volunteers.