Submitted on Thursday December 11th, 2014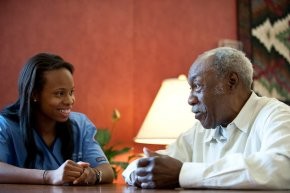 When you read about "successful aging," the focus is often how well an elder has maintained physical health. How mentally sharp he or she has remained. How much he or she has stayed socially engaged. Without doubt, studies link seniors' quality of life with physical, mental, and social activity.
But what happens when your loved one loses the ability to pursue physical exercise? When social options are limited by lack of transportation? When memory problems make it harder to engage with favorite hobbies or interests?
New research is showing that time spent on the Internet can overcome some of the losses and limitations of aging. Online communities cannot replace "real relationships." But they do provide meaningful outlets of expression. And they counteract the loneliness and isolation felt by so many elders.