Submitted on Wednesday July 30th, 2014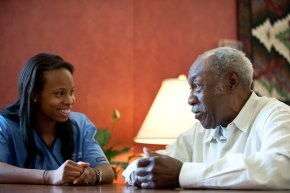 The American Bar Association tool kit is an excellent and very accessible resource to help patients and their families discuss matters concerning end of life care. The kit's articles address topics such as weighing the odds of survival, your personal priorities and spiritual values, how to select a health care representative, and how to be a health care representative.
There probably is no right time or right way to start a discussion about dying. Unless there is a story in the news that provides a good opening, you may want to begin with an indirect reference. For instance, you can talk about a friend who had problems when her parent died because the parent had not spoken with family members or written an advance directive. By expressing the personal distress you would feel if you were in that situation, you then can shift to asking the person you care for what he or she would like to have done "just in case." Many people who are sick care very deeply about not causing their family members pain or anguish. Once they realize that not talking about the situation will make it harder on the ones they love, they often can get past their resistance. Some are even relieved because they had wanted to talk about it but didn't know how to bring up the subject!